Enhance happiness and become more mindful while baking during COVID-19. Try Linda's Quick Jalapeno Cornbread recipe today!
---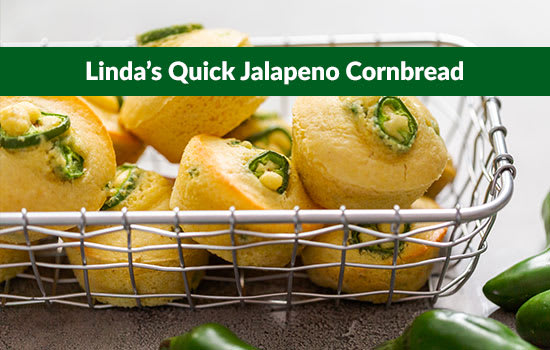 CORNBREAD INGREDIENTS
1 cup milk
4 tablespoons melted butter
2 large eggs
1 can creamed corn (14.5 ounces)
1 can kernel corn (drained)
1 cup cornmeal
1 cup all-purpose flour
3 tablespoons sugar
1 teaspoon salt
2 teaspoons baking powder
1 teaspoon baking soda
½ teaspoon black pepper
½ - 1 cup chopped jalapeno peppers + sliced jalapenos for topping
1 cup shredded cheddar cheese (spicy pepper jack for those who like it hot)
Simple steps:
Heat your oven to 375 degrees F (190 degrees C).
Whisk together the milk, melted butter, eggs and creamed corn, kernel corn together in a small bowl.
Combine the cornmeal, flour, sugar, salt, baking powder, baking soda, and black pepper in a separate larger bowl.
Pour the wet ingredients into the dry ingredients and stir together.
Stir in the chopped jalapenos and shredded cheese.
Pour the batter mixture into a lightly oiled baking dish and bake for 25-35 minutes, or until the cornbread sets and when a toothpick inserted in the center comes out clean. 
Cool slightly, slice and serve.
To help you deal with COVID-19, we've provided ways to cope and thrive with baking! With a combination of emotional intelligence, mindfulness, and baking – we have the perfect recipe - check out simple recipes you can try!
---
Submit Your Recipe Here »     More COVID-19 Reads + Recipes Here »
---
Are you Emotionally Intelligent?
Sign up for Linda's monthly tips to build your Emotional Intelligence and reduce Emotional Hijacking!
---