Enhance happiness and become more mindful while baking during COVID-19. Try Linda's One-Bowl No-Nonsense Banana Bread recipe today!
---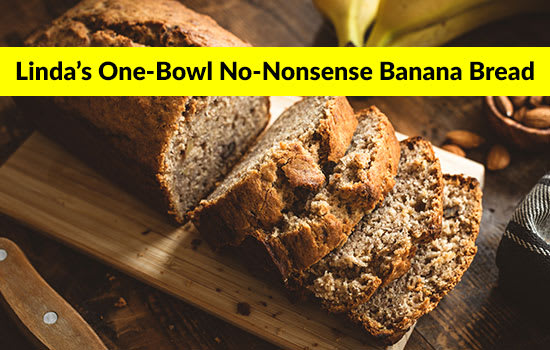 BANANA BREAD INGREDIENTS
3-4 ripe bananas, mashed
1/3 cup butter, melted
3/4 cup granulated sugar
1 XL egg, beaten (or 2 small eggs)
1 teaspoon vanilla
1 teaspoon baking soda
1 teaspoon baking powder
1/2 teaspoon cinnamon
1/8 teaspoon salt
1 1/2 cups all-purpose flour
Simple steps:
Preheat your oven to 350 degrees and prepare a loaf pan by spraying it with nonstick cooking spray.
In a large bowl, combine melted butter and mashed bananas using a wooden spoon.
Add in sugar, eggs, vanilla and stir together.
Sprinkle the baking soda, baking powder, cinnamon, salt, and flour over the top of your batter and then stir together.
Optional: add in nuts or chocolate chips last. Stir until there are no more flour dry spots, and everything is combined.
Pour the banana bread batter into the prepared loaf or muffin pans.
Bake time is 50-55 minutes for a loaf and 25-35 minutes for muffins.  Test with a toothpick – if it comes out clean, remove from oven.
The cooling time is 10 minutes in the pan. Then remove from pan and transfer to a cooling rack. 
Banana bread serves the best warm at room temperature.
To help you deal with COVID-19, we've provided ways to cope and thrive with baking! With a combination of emotional intelligence, mindfulness, and baking – we have the perfect recipe - check out simple recipes you can try!
---
Submit Your Recipe Here »     More COVID-19 Reads + Recipes Here »
---
Are you Emotionally Intelligent?
Sign up for Linda's monthly tips to build your Emotional Intelligence and reduce Emotional Hijacking!
---