We are thrilled to announce that Linda Marshall, Marshall Connects President is teaching a CE Course at Mohawk College titled, Emotional Intelligence: The KEY to Personal & Professional Success. 
---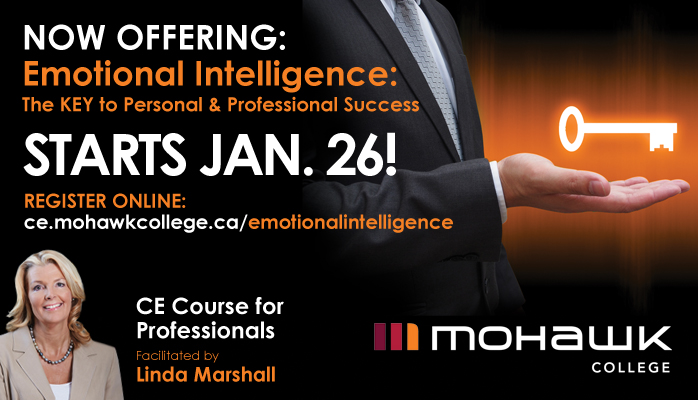 Perfect for the professional looking to advance their career. Receive an acknowledgment of Completion. This course is a mix of classroom and online learning.
Emotional Intelligence is catching on like wildfire. More and more corporations are focusing on Emotional Intelligence and realize that it can have an even more profound effect than academics and street smarts. This 6-week course will combine two 3 hour sessions in-class and four 60 minute webinars online! Perfect for professionals who want to enhance their career and step into the next role. Earn an acknowledgment of completion for this course!
This Course will be facilitated by Linda Marshall, President of Marshall Connects and Author of Giving Back: How to Find Your Personal Joy and Make a Difference To Others. Linda brings her on-the-ground experience after a 32-year career in senior roles and now facilitates workshops and custom programs for corporations and organizations.
STARTS JANUARY 26, 2017
---