We all know the power of one. We also know the power of many. I have joined Interval House Hamilton to Stand United and End Violence against Women. 
---
If you've read any of my blogs before I've probably ingrained the definition of Emotional Intelligence into your memory, but for a recap, here it is. Emotional Intelligence is your ability to recognize, understand and manage YOUR feelings and those of OTHERS. This has an incredible impact individually but imagine the impact this could have a united voice on the social issues that face us as a community. What do I mean? One of the biggest challenges organizations face is awareness and understanding.  Social issues such as homelessness, mental illness, abuse and violence against women etc are easy to feel empathetic towards but do we really understand and recognize what a person goes through when they are affected by circumstances that need to change in order to live a healthy and viable life.
Combating Violence Against Women
In the past, emergency shelters for women were kept secret for obvious reasons of unanimity, but as time passed the need to be more visible has become more apparent – both because the help a woman may need to end the abuse in a relationship could mean that in addition to emergency shelter, she needs counselling for her and her children, legal advocacy and other support; secondly her community needs to know what it takes to seek help and this support needs OUR support. The advancement of security systems now also enable emergency shelters to be more visible.
This last year I have become closely involved with Interval House of Hamilton, an organization that offers emergency shelter on Sanatorium road on the west mountain in Hamilton, but also several outreach programs offered in downtown Hamilton and Flamborough that include legal advocacy, counseling, and many resources for housing, employment, and other areas.
The following is part of an article written by Executive Director of Interval House of Hamilton (IHOH) Nancy Smith that I find very powerful – and I wanted to share with you.
It's Time to Stand United and Speak Out
Violence against women is one of the most destructive issues we face.  It harms women, children, families, and friends. According to The Canadian Women's Federation, half of all women experience sexual or physical violence at least once, and every six days a woman in Canada is killed by her intimate partner. That statistic astounds me, and yet I work with it every day.
Violence can impact anyone in our society, regardless of age, sex, or gender identity. To stem the epidemic of violence against women, we must understand how it is unique.  What makes it unique is that women specifically are much more likely to experience violence from intimate partners or friends, and more likely to experience sexual violence (The Canadian Women's Federation). Violence against women needs to be addressed at every societal level, whether at home, at work, at school – anywhere.
These statistics are shocking and it's hard to believe this type of abuse/violence is occurring in our country. Most of us are unaware of the facts because they are not out in the main stream media consistently and perhaps part because we don't want to hear this devastating information. I agree strongly with Nancy that it's time to stand united and speak out and I'm  sharing this blog in hopes to educate others and make a difference to the women and children in our country.
On Thursday, November 24, Interval House of Hamilton will mark the 30th Anniversary of providing support and services to the Hamilton community at their Pearl Gala. It is my distinct pleasure to be the Honorary Gala Chair of this event and I'm so proud to support it.
Please join me in recognizing 30 years of service to women and children in our community as an event sponsor, a ticket purchaser, and/or as a donor. For more information visit https://intervalhousehamilton.org/30th-gala - I hope to see you there!
---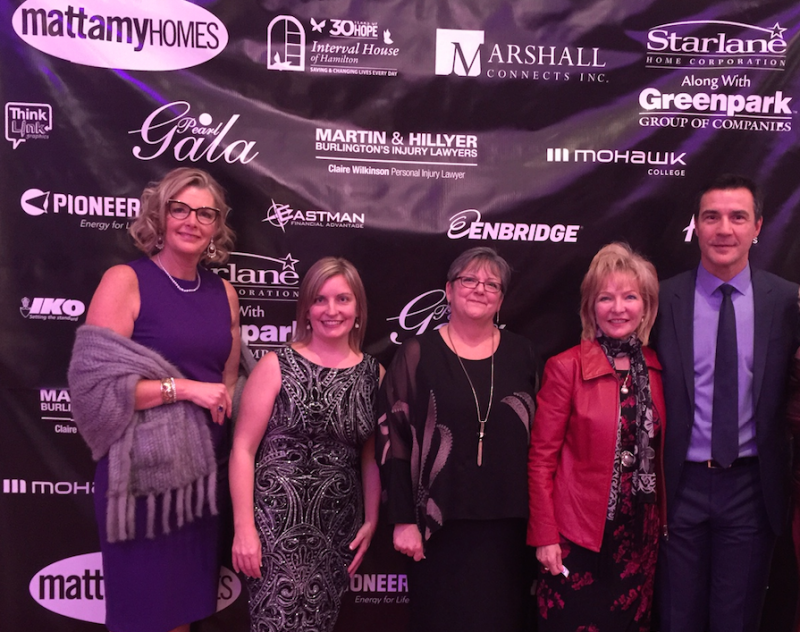 Linda Marshall was honorary chair For Interval House of Hamilton at their Gala on November 24th.
The event was held at Michelangelos Banquet Centre that recognized 30 years of service.