Do you know what a #ConvoPlate is? Make sure you are a part of the most important conversation of our time. 
---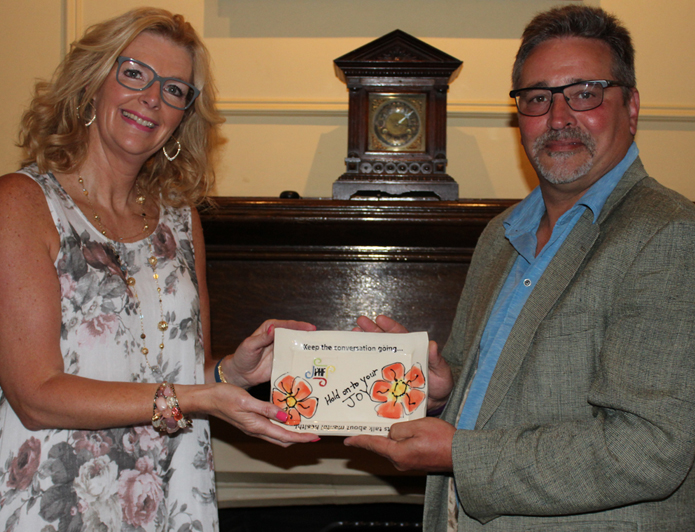 Recently I had a wonderful opportunity to work with the Paul Hansell Foundation (PHF) and create two #ConvoPlates at The Art Gallery of Burlington. I learned about the conversation plates from my new friend and colleague Brian Hansell who founded the PHF in December 2010 after the tragic loss of his son Paul.
The entire process of creating a conversation plate was fulfilling in so many ways. Michelle Lynn, Ceramic Studio Technician skillfully and patiently guided a small group of us through the process over two evenings. Not only did I find this experience educational and peaceful, I learned more than ever how important understanding mental health is for youth. I decided that I wanted to support this wonderful endeavor in any way that I could.  Through my business Marshall Connects, I interact with so many people in different businesses daily so I knew this would be the perfect approach to share the plates and keep the conversation going about mental health. I plan to bring my #ConvoPlate with me as often as possible and will take a picture of people that I am meeting with and the plate and post it on social media.
Jolene Hansell, Vice-President of the PHF explains;
"Mental health is the one thing we don't like to talk about. It is the elephant in the room. We all have it; we all experience it—the good days and the bad days—so why don't we talk about it? Why is it not part of our everyday conversations?
The #ConvoPlate is a conversation starter—it gets people talking about mental health. Mental health is not something we can take for granted; it is something that needs to be supported continuously. The stresses and pressures of life take a toll on our mental health. And just like we make conscious decisions to eat right and exercise to support our physical health, we need to be finding ways to do the things that support our mental health, each and every day—whether it is calling a friends, spending time with family, riding a bike, playing with your dog, or creating a work of art. The options are endless, it's a matter of what works best for you and your mental health.

Currently, there are approximately 50 Convo Plates in circulation. Each with its own story. Some have passed through the hands of dignitaries (Premiere Wynne, MPs, MPPs, and Mayors) and some through the hands of notable personalities (Chris Hadfield, Margaret Trudeau, and Michael Landsberg). Some have passed through the hands of teachers, nurses, lawyers, politicians, mothers, fathers, and youth. With each pass there is a conversation about mental health, and with each conversation, we are one step closer to eliminating the stigma.

I dream of a world where everyone talks openly and freely about their mental health. Where it is not something to be ashamed of. Will you be part of the conversation? Let's talk about mental health. Please keep the conversation going!"

As the #convoplates travel with many ambassadors through our cities, provinces, countries and across the world it will not only keep the conversation going, it will change how we address mental health issues. Education is power! Thank you, Jolene and the Paul Hansell Foundation for all that you do to promote programs aimed at the mental and emotional wellbeing of youth. 
#ConvoPlate
To learn more about conversation plates-#ConvoPlate please visit www.paulhansellfoundation.com The Paul Hansell Foundation is a Donor Directed Fund and funds are allocated in keeping with the foundation's mission of promoting programs aimed at the mental and emotional well-being of youths. The foundation operates inside of the Burlington Community Foundation (BCF). BCF provides all of the administration, accounting, reporting, and aggregates all funds for investment purposes. Aggregating the funds results in lower fees associated with the investments and BCF holds back a very small amount to cover its costs.