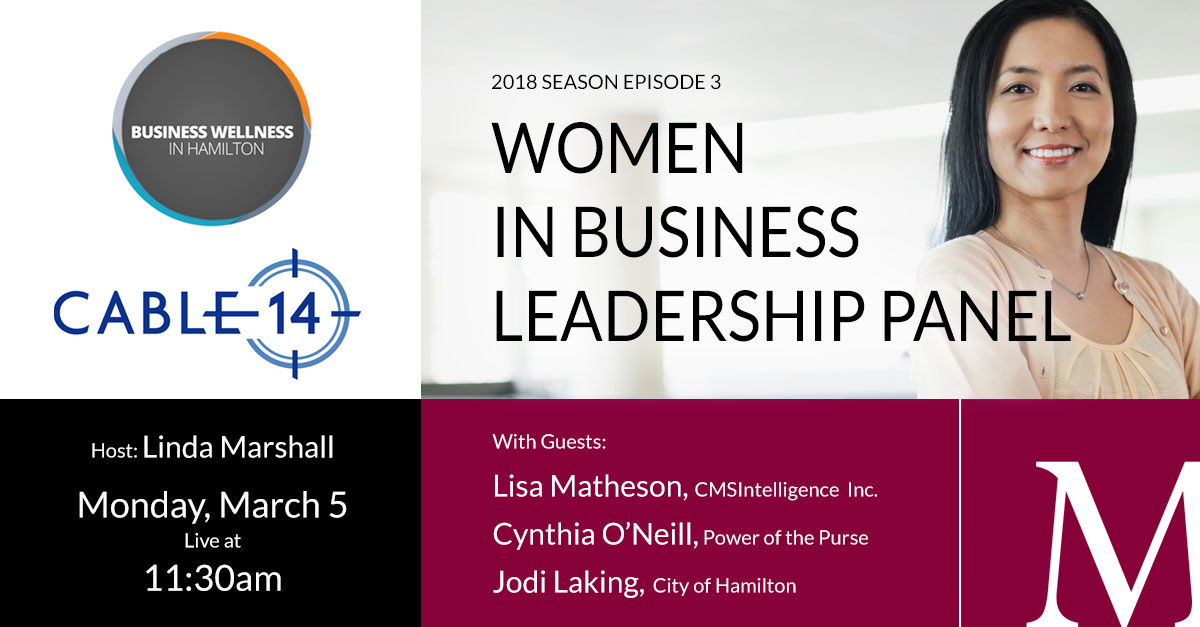 Host Linda Marshall and the Women in Business Leadership Panel engage in a lively discussion about how women can embrace and thrive in leadership roles, and develop confidence as entrepreneurs.
---
On this episode of Business Wellness, we talk about building confidence as business leaders, and the importance of taking a sincere, communication-driven approach to your business relationships in accumulating good will. It's a strategy that each of our guests believe is anchored in a commitment to developing Emotional Intelligence skills in individuals and teams.
Partner & COO, CMSIntelligence Inc.
Lisa Matheson is a partner and COO of CMSIntelligence Inc., a full-service digital solutions agency. Lisa brings what she calls 'a little gray hair to the boardroom table' – with 30 years of experience advising businesses on growth strategies that leverage digital tools for both marketing and operational success. Before becoming a Senior Partner in CMSIntelligence, Lisa's consulting clients ranged from multinationals to green technology startups.
President, High Altitude Thinking Inc.
Founder, Power of the Purse Women's Conference
Cynthia is first and foremost a business builder who excels in strategic network and relationship development. She has carved a reputation for her presence, leadership and record of results. Cynthia is an excellent communicator and a big-picture thinker who can prioritize and create the focus needed to achieve goals. 
Business Development Officer, City of Hamilton, Small Business Enterprise Centre
Jodi believes that, in order to build success in business, women must develop greater confidence in their skills and experience, and in taking opportunities to advance their careers. We need to be leaders in creating and being a part of the change to a more sustainable, competitive, respectful work environment – and strong emotional intelligence skills are critical.
---
ABOUT THE HOST
Linda Marshall, Author and Consultant, hosts Business Wellness in Hamilton on Cable 14 weekly. For each episode, Linda invites special guests to discuss buzz-worthy topics such as emotional intelligence, employee engagement, mental health, company culture and much more. 
---
< BACK TO ALL EPISODES  |  CONTACT US > 
---