In episode 4 of Business Wellness in Hamilton, learn how company culture can affect the bottom line of your business.
---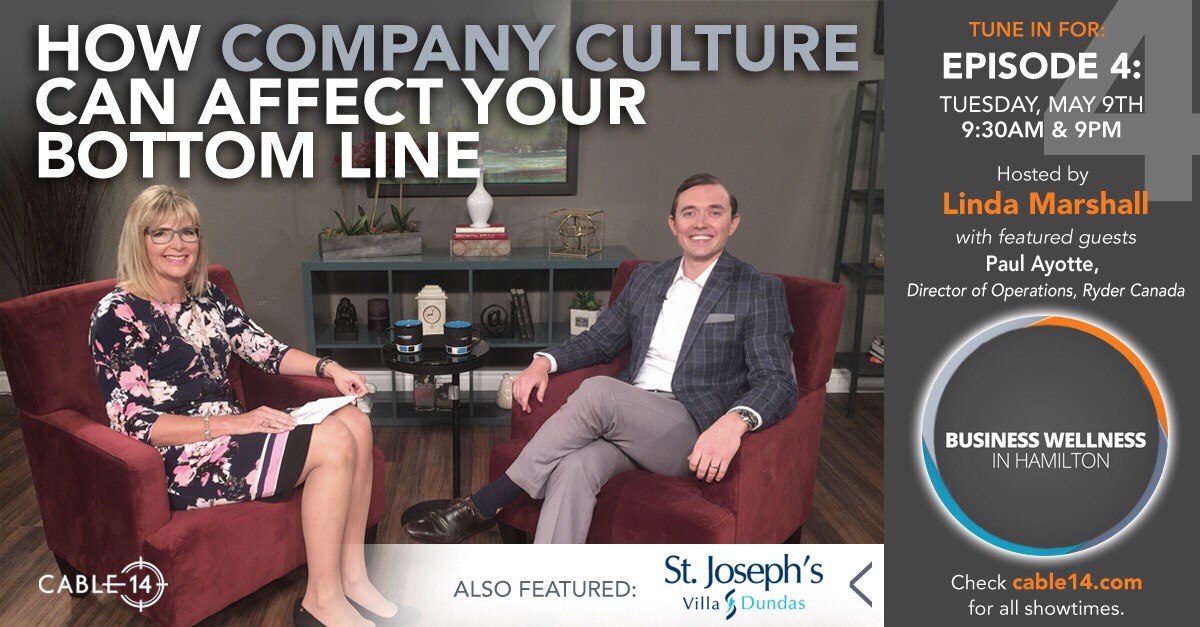 Linda Marshall hosts Business Wellness in Hamilton on Cable 14 weekly. Each episode covers buzz-worthy topics such as emotional intelligence, employee engagement, mental health, company culture and much more. 
In Episode 4, that airs Tuesday, June 26, 2017, at 9:30 am and 9:00 pm, the topic is Company Culture. Linda is joined by Paul Ayotte, Director of Operations, Ryder Ontario and Eastern Canada who shares "How Company Culture Can Affect the Bottom Line of Your Business". During the Giving Back segment, Don Davidson, Director of Development & Communications, St. Joseph's Villa Foundation and Tamara Johnson, Director of Community Programs and Services share the Villa's history and services as well as highlight some very unique programs they offer that give back to our youth and community.
---
Company Culture Plays an Integral Role in a Healthy Business
When employers focus on advancing a healthy company culture, they see significant employee retention, enhanced reputation, increased productivity, and become known in their industry for high-quality products and services.
Employees who feel valued for their contribution to the business not only develop a positive attitude, their overall morale and company loyalty is enhanced. This in-turn supports employee retention and decreases overall human resources expenditures. It goes without saying, happy employees are generally very productive and enjoy going to work. A healthy work culture inspires workers to deliver quality work with high standards. 
---