In episode 2 of Business Wellness in Hamilton, learn why emotional intelligence is the key to success. 
---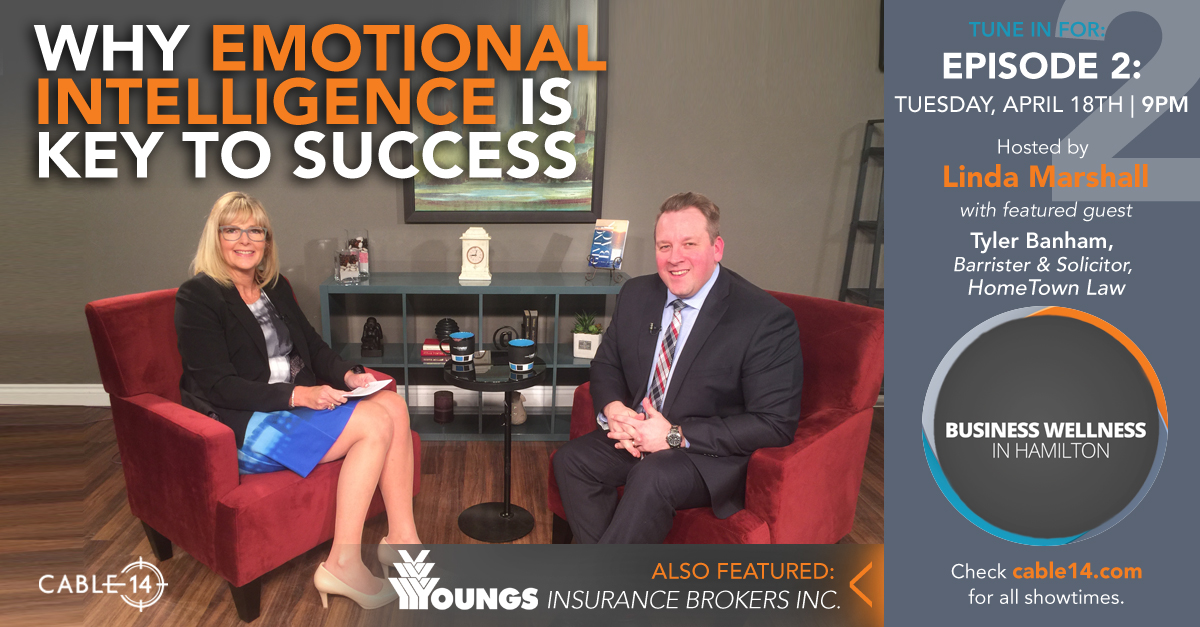 Linda Marshall hosts Business Wellness in Hamilton on Cable 14 weekly. Each episode covers buzz-worthy topics relevant to business wellness within Hamilton.
In episode 2, that airs Tuesday, April 18, 2017, at 9:30 am and 9:00 pm the topic is Emotional Intelligence. Linda is joined by two guests; Tyler Banham of HomeTown Law and Tyler Bielby of Youngs Insurance Brokers Inc. Tyler Banham shares his in-depth professional experience with emotional intelligence through his legal career and as campaign manager for Prime Minister Justin Trudeau. Tyler Bielby discusses, the power of business 'Giving Back' campaigns though Youngs Insurance's #GiveBackOntario initiative. 
---
The Importance of Emotional Intelligence
Business Wellness is driven by employees with strong emotional intelligence. Emotional intelligence is imperative to your success and those who practice it, get phenomenal results.

Individuals with strong emotional intelligence have a huge advantage in the workplace today, providing the necessary authority required in today's competitive and unpredictable environment. It's what separates the good from the great!

Emotional Intelligence has four core competencies and skills; self-awareness, self-management, social awareness, and relationship management. All can be developed to make a tremendous difference to an individual's personal and social competency. It's within everyone's aptitude to strengthen their emotional intelligence skill development - Emotional Quotient (EQ).
Marshall Connects Employee Engagement Workshops
Our Emotional Intelligence workshops provide the tools required to understand the importance of the four core competencies - increasing business wellness. Participants will learn to incorporate tactics, increase their communication skills and develop strategies to manage their emotions and those of others.

Workshop features include a variety of useful business learning tools including; participant manuals, periodic assessments, digital presentations, practical applications, and continued learning materials. Check out our Emotional Intelligence Workshop options today!
---