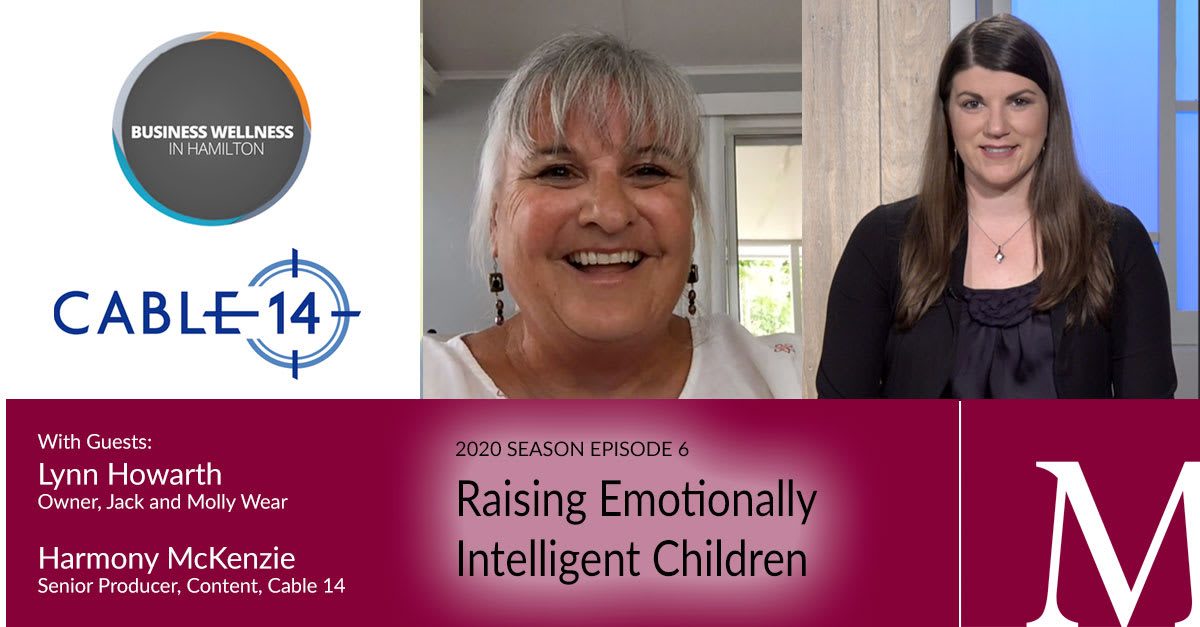 Host Linda Marshall invites her guests to discuss how to raise emotionally intelligent children on Episode 6, Season 4 of Business Wellness in Hamilton. 
---
How do we prepare our children to thrive in today's world? Our goal is to support and raise our children to be successful and develop to their highest potential. In fact, many see that as their highest priority and sole responsibility once they have children. Providing them with the necessary skills to work towards what they want in life is vital. When it comes to educating our children about connecting with their emotions and developing social skills, emotional intelligence is invaluable. Fostering children's intellectual skills is very important, but equally important is their emotional development. Learning to identify their emotional responses and regulate and manage them will lead them toward positive relationships.
Join my special guests Lynn Howarth, Owner, Jack and Molly Wear, and Harmony McKenzie, Owners, Senior Producer, Content, Cable 14, and me to discuss how to raise emotionally intelligent children for the premiere show on Friday, October 23, at 8:00 pm.
Owner, Jack and Molly Wear
Lynn is a retired teacher of the HWDSB. She initially began her career as an Early Childhood Education student at Mohawk College. After graduation, Lynn attended Brock University, where she completed her degrees in the Concurrent Bachelor of Arts and Education Program. For 30 years, she taught kindergarten and remains passionate about the welfare and needs of young children. Lynn was the Board's Consultant for The Early Years Program for six years of her teaching career. 
Lynn is a volunteer member of the Board of Directors For Affiliated Services for Children and Youth and continues to advocate for young children actively. She has provided many workshops for educators on the importance of storytelling and music in developing language skills for young children.
Lynn has an adult daughter and is enjoying her retirement. She recently started a small business, "Jack and Molly Wear," selling her handmade dog bandanas. Lynn is a passionate and active volunteer for the SPCA and visits classrooms with her visiting therapy dog. Jack is the official visiting wellness dog for McMaster University.
---
Senior Producer, Content, Cable 14
Harmony McKenzie is currently the Senior Producer of Content at Cable 14. During her elementary and high school years, she was homeschooled. Harmony has enjoyed a dynamic career beginning with a focus on forensic psychology and law-related courses. Her passion for broadcasting led her to Mohawk College and where she received her diploma in television broadcasting.
She is a relatively new Mom with two and a half-year-old son. In addition to working full time and being a mom, Harmony recently obtained her pilot's license, and she enjoys flying whenever she gets the opportunity. Harmony and her husband both love music, particularly drums, and they have started to share that interest with their son.
---
Watch Show Promo Here
---
ABOUT THE HOST
Linda Marshall, Author, Entrepreneur, Motivational Speaker, Television Host, Certified Emotional Intelligence Trainer, Coach, and thought leader in emotional intelligence hosts Business Wellness in Hamilton on Cable 14 weekly. During each episode, Linda invites special guests to discuss buzz-worthy topics and share strategies to strengthen business wellness.
---
< BACK TO ALL EPISODES  |  CONTACT US > 
---