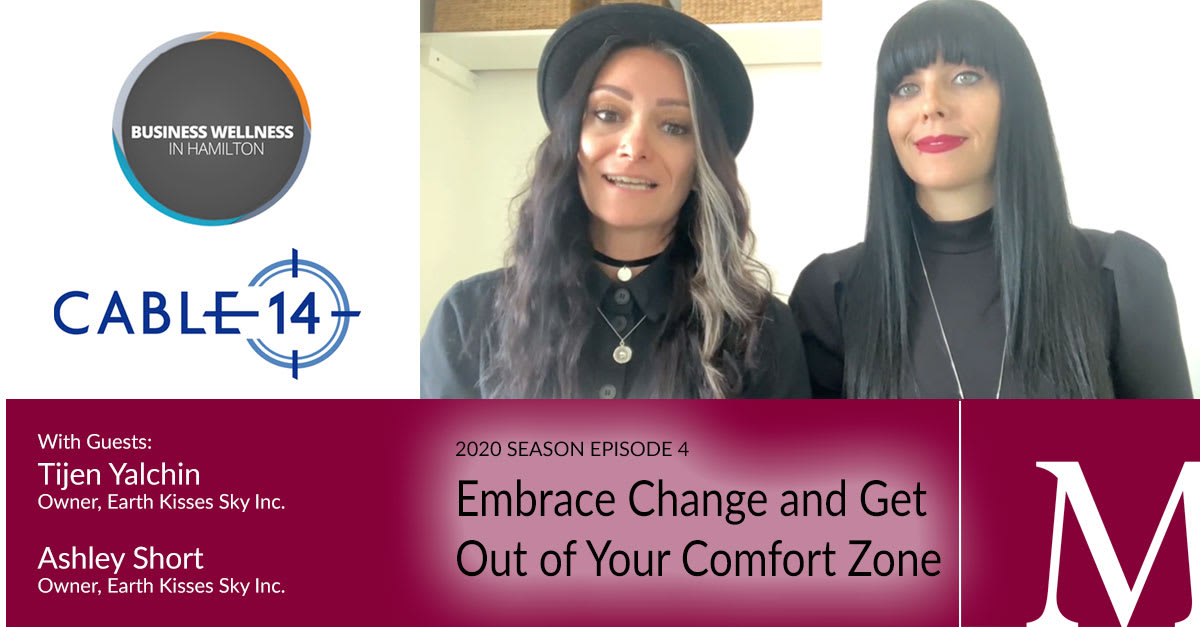 Host Linda Marshall invites her guests to discuss how we can embrace change to get out of our comfort zone on Episode 4, Season 4 of Business Wellness in Hamilton. 
---
When it comes to change, are you someone who embraces or avoids it? For some, change is the spice of life that keeps them interested and excited. For others, change incites fear or uncomfortable feelings. Generally, routine and being in control or knowing what to expect provides a sense of comfort and security. Life is unpredictable, and "change is necessary and inevitable" for individuals and organizations to survive and flourish in today's fast-paced world. We are continually evolving, which is why embracing change is paramount to our overall happiness and personal growth.

Join my special guests, Tijen Yalchin and Ashley Short, Founders, Earth Kisses Sky Inc., and me to discuss ways to manage change in our lives for the premiere show on Friday, October 9, at 8:00 pm.
Owner, Earth Kisses Sky Inc.
Tijen Yalchin graduated from the Canadian Therapeutic College in 2005, where she received her diploma in Massage and Hydrotherapy. In 2009, she obtained her diploma in Acupuncture from the Institute of Traditional Medicine. Additional schooling includes a three-week clinical internship in Traditional Chinese Medicine (TCM), where Tijen graduated in 2012 from the Zhejiang College of TCM in Hangzhou, China, one of the top three TCM colleges in the world.  In 2018 Tijen pivoted from providing services to producing wellness products.  
---
Owner, Earth Kisses Sky Inc.
Ashley Short is a certified Plant-based Holistic Nutritionist, Clinical Herbalist, Cannabis educator, and co-founder of Earth Kisses Sky Inc.
Ashley has studied and practised various forms of Natural Medicine for over 12 years, including completing a 2015 internship in Kathmandu, Nepal, which allows her to offer Herbal medicine to the local community.  Ashley's love of healing through a Natural and Holistic approach was put to the test by a devastating Lyme disease diagnosis in 2011. 
Losing her mobility and independence from being confined to a bed and wheelchair encouraged Ashley to fight for much needed alternative remedies to this debilitating disease. This difficult personal journey left her determined to improve her own health as well as the health of others using whole sources, complementary therapies, and Herbal Medicine, including Cannabis.  
Throughout her evolving goals, Ashley, alongside her life and business partner Tijen, developed a 'ready to be mixed with Cannabis' skincare line, Earth Kisses Sky Inc., that would help decrease chronic pain & inflammation. 
EKS @earthkissessky is one of Canada's most innovative, natural, and effective healthcare brands on the market. A business born from the personal health experiences of their founders, Ashley Short & Tijen Yalchin - partners in business and life. Their professional training in health sciences, combined with their mission to help others with pain management and skin conditions, inspired them to create Just Add Oil - All Natural Cannabis Topicals, as well as several herbal-based products. Their passion and skill for crafting natural healthcare products that work, matched with their unique and personable approach to business, have made them two of the most loved and admired Canadian women entrepreneurs of this decade.
---
Watch Show Promo Here
---
ABOUT THE HOST
Linda Marshall, Author, Entrepreneur, Motivational Speaker, Television Host, Certified Emotional Intelligence Trainer, Coach, and thought leader in emotional intelligence, hosts Business Wellness in Hamilton on Cable 14 weekly. During each episode, Linda invites special guests to discuss buzz-worthy topics and share strategies to strengthen business wellness.
---
< BACK TO ALL EPISODES  |  CONTACT US > 
---