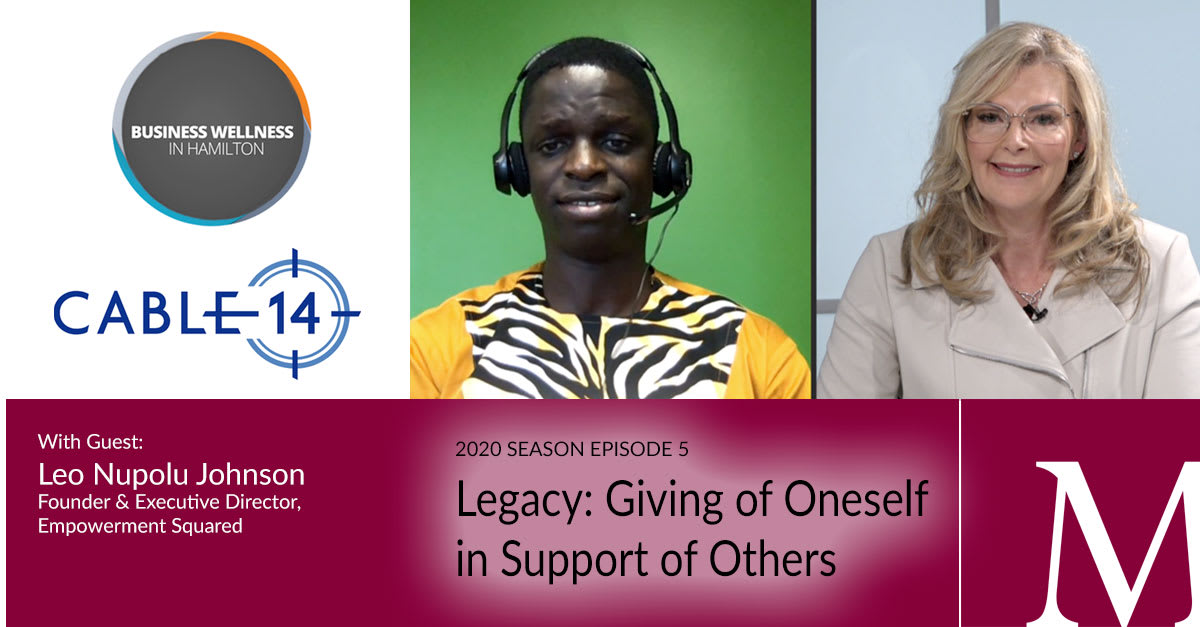 Host Linda Marshall invites her guest to discuss the topic of legacy and how it affects our lives and the lives of others on Episode 5, Season 4 of Business Wellness in Hamilton. 
---
When I refer to legacy, I believe it to be memories or knowledge that come from the past. Consequently, our legacy is built by the words and actions we choose during our lifetime that leave a lasting impression on others, what they remember about who we are, and what we stand for. It's the story and experiences of one's life.

The impact of our legacy can make such a difference in the lives of others. Sometimes small acts of kindness can touch an individual and change their lives in ways we may never understand. Spending time thinking about our legacy can bring more meaning to our life, especially when we focus on our living legacy.

Join my special guest Leo Nupolu Johnson, Founder & Executive Director - Empowerment Squared, and me to discuss the topic of legacy: giving of oneself in support of others for the premiere show on Friday, October 16, at 8:00 pm.
Founder & Executive Director, Empowerment Squared
Leo spent eight years in refugee camps in Ivory Coast and Ghana, having fled from the civil war in his native Liberia. In 2006, he resettled in Canada as a government-assisted refugee. In 2007, Leo founded Empowerment Squared, a charitable organization committed to building a world where everyone is empowered with the tools and opportunities to thrive and contribute to society through mentorship and access to education. Under Leo's leadership, the organization has assisted over 10,000 newcomer youth and families with settling in Canada. The organization recently completed the groundbreaking ceremony for Liberian Learning Center.  This center will house the only public library in the West African Nation of Liberia.
Leo's work has been recognized for its impact all over the world. He has received the J.C. Holland Award for Youth Leadership and Excellence and the YMCA Peace Medal, been named one of the Hamilton Spectator's Top Forty Under 40 and one of the top 75 immigrants in Canada, he also served as a guest lecturer in the University of Toronto's Global Health course. He was recently awarded the World Citizenship Award by the City of Hamilton, Gandhi Peace Award, McMaster University Global Community Impact Award and the Afroglobal TV 2018 Visionary Award. In 2019, Leo was one of 14 people selected globally as a Fellow for the International Decade for People of African Descent by the United Nations.
---
Watch Show Promo Here
---
ABOUT THE HOST
Linda Marshall, Author, Entrepreneur, Motivational Speaker, Television Host, Certified Emotional Intelligence Trainer, Coach, and thought leader in emotional intelligence, hosts Business Wellness in Hamilton on Cable 14 weekly. During each episode, Linda invites special guests to discuss buzz-worthy topics and share strategies to strengthen business wellness.
---
< BACK TO ALL EPISODES  |  CONTACT US > 
---