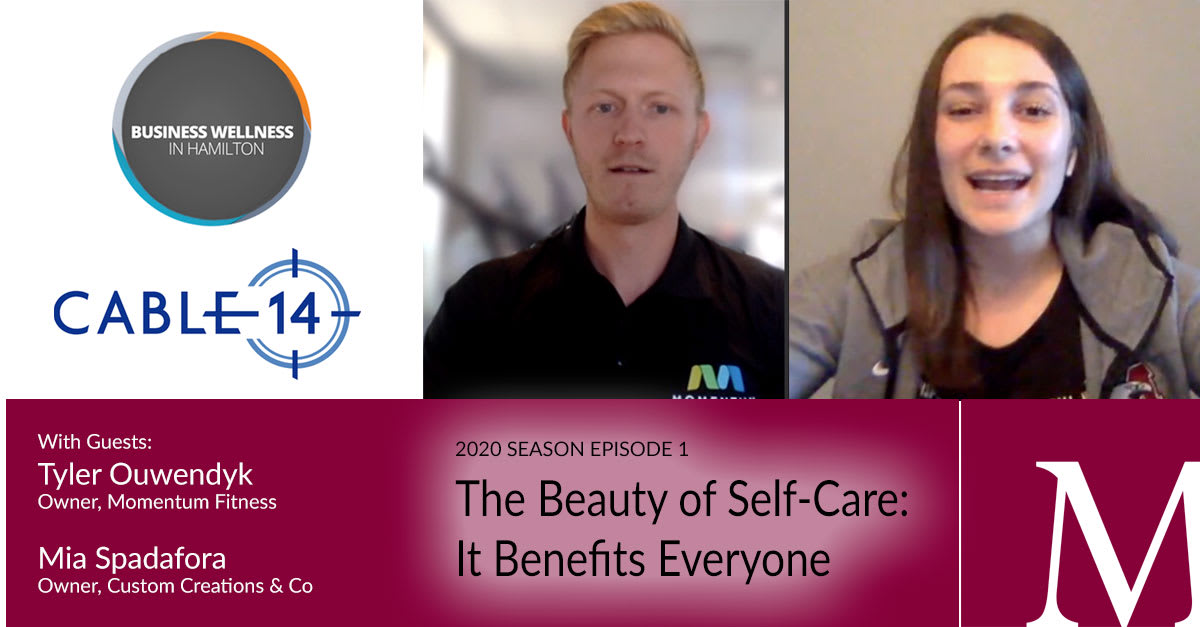 Host Linda Marshall invites her guests to discuss the value of self-care and how it benefits everyone on Episode 1, Season 4 of Business Wellness in Hamilton. 
---
Self-care is about preserving your physical, emotional, and mental health; it is not a selfish act. Taking care of ourselves should be our No. 1 priority, but often it is not. Creating a healthy body will develop a sharp mind and help manage our stressful lives. Our body and brain positively respond when we take time each day to do something for ourselves first, so moving self-care to the top of the list is essential.  When we make time for ourselves, we give ourselves permission to refresh and re-energize.

Join my special guests Tyler Ouwendyk, Owner, Momentum Fitness and Mia Spadafora, Entrepreneur and McMaster University Athlete, and me to discuss the benefits of self-care for the premiere show on Friday, September 18, at 8:00 pm.
Owner, Momentum Fitness
Tyler is the owner of Momentum Fitness, a 24/7 boutique fitness club that aims to make fitness fun, non-intimidating, and accessible to all fitness levels and ages. Before becoming owner, Tyler worked at Momentum Fitness as a Health Coach in June 2014, where he has helped hundreds of people reach their health and fitness goals. 

Tyler's role at Momentum Fitness grew, and he was instrumental in creating several Momentum locations. In 2019, Tyler purchased Momentum Fitness to become the sole owner.

Momentum Fitness won Dundas Business of the Year and was also runner up for Hamilton Business of the Year.  As well, Momentum won several Readers Choice awards through the years for 'Best Fitness Club' and 'Best Personal Training.'

Tyler is active in his community and sits on the Mohawk College Program Advisory Board for the Health and Fitness Program.  He is also the owner of an online fat loss program that emphasizes building sustainable habits for long-term success.
---
Owner, Custom Creations & Co 
Mia is an athlete at McMaster University and is a part of the McMaster Women's Basketball team. Going into her fourth year, she is majoring in English and Cultural Studies and is minoring in religious studies. During her second year, she was a part of the Marauder's basketball team that broke history and secured the first-ever Nationals Women's Basketball Championship for the McMaster women's basketball program. 
Mia is an entrepreneur who opened Custom Creations & Co. during COVID-19. Her business customizes personally inspired items like tumblers, mugs, dog bandanas, and masks. Her creativity is endless, and she is always open to requests from her customers.
After graduation, Mia plans to attend teachers' college, where she intends to use her skills to impact the younger generation to a healthy, happy, and beneficial lifestyle. 
---
Watch Show Promo Here
---
ABOUT THE HOST
Linda Marshall, Author, Entrepreneur, Motivational Speaker, Television Host, Certified Emotional Intelligence Trainer, Coach, and thought leader in emotional intelligence hosts Business Wellness in Hamilton on Cable 14 weekly. During each episode, Linda invites special guests to discuss buzz-worthy topics and share strategies to strengthen business wellness.
---
< BACK TO ALL EPISODES  |  CONTACT US > 
---