Helping businesses in Atlantic Canada
grow their people & productivity.
Marshall Connects is excited to officially launch its Emotional Intelligence development and training programs in Atlantic Canada. Our dynamic workshops, keynote speaking, and organizational consulting services will help your organization increase employee satisfaction and enhance overall productivity.
Our goal? To help you develop your people for better results because statistics show happy employees translate into hefty profits for companies (Forbes.com).
Our Emotional Intelligence training programs bolster emotional and social skills associated with a happy, healthy and productive workplace. EI training strengthens employees' leadership competencies, and elevates synergy achieved from highly effective teamwork.
FACT: Business wellness impacts productivity.

A healthy workplace with a happy, well-balanced, and motivated staff is the foundation of every successful business or organization.

People are your company's most valuable resource.

Assisting them to become more emotionally intelligent employees is an investment with an extremely high rate of return.

It makes sense that happy employees work more efficiently, collaborate more effectively, problem solve with less 'drama', and are motivated to achieve high levels of productivity.

And, employees with high emotional intelligence are often the ones who emerge as leaders – fueling the growth and success of your business.

EI training delivers value – in any type of business setting or organization.
Interested? Let's explore the possibilities.
We invite you to take the time for a no obligation discussion about how Marshall Connects training and workshops can help improve your employees' Emotional Intelligence and inspire new positive behaviours.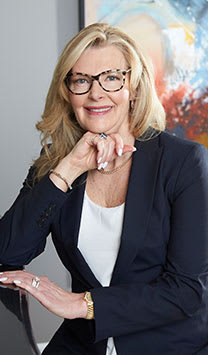 Through her business, Marshall Connects, Linda Marshall brings more than 35 years of experience working with and educating teams. In addition, she offers consulting services for a wealth of workshops. Linda has developed strengths in corporate strategy, team building, board development, and business planning, demonstrating success in managing complex, multi-site operations. She is an expert in leveraging her strengths as a connector, collaborator and setting and achieving goals in often challenging, fast-paced environments.

To book a corporate consultation or speaking engagement in Halifax, contact Linda today.
Phone: (905) 317-5644
---
DOWNLOAD MARSHALL CONNECTS OVERVIEW (PDF)
---
Frequently Asked Questions
What types of Emotional Intelligence programs do you offer?
Great question. We have a number of options – keynote speaking, organizational consulting, leadership development, team development, workshops and webinars – but the starting point is a needs assessment conversation with you to hear your current challenges and goals. Then, we marry your objectives, timelines, and budget with our services to give you the best ROI possible.

Learn More About Our Services »
Is Emotional Intelligence a good topic for a keynote talk?
Absolutely! In addition to an introduction to Emotional Intelligence as a topic, Linda Marshall also offers a series of other dynamic TED-style keynotes for meetings.

Read More »
Do you have online options or webinars?
In an ideal world, we'd love to be able to deliver in-person training to every one of your employees. However, we also offer webinars as an effective training alternative. A series of dynamic and relevant webinars allows team members to learn key concepts online and on their schedule.
Are there any public workshops scheduled for Halifax?
We are in the process of organizing our next dates for one of our most popular public workshops. If you would like to be notified when we have more information, please complete the form on this page.
COMING SOON! Emotionally Effective Leadership is a comprehensive one-day workshop that equips employees with valuable tools to enhance their effectiveness as a leader in your organization.
What makes Marshall Connects different?
Lead facilitator and strategist Linda Marshall resonates with audiences from a wide range of sectors –academia to manufacturing – with powerful keynotes, workshops, and coaching services.
We like to call her approach to leadership training as "growth with heart".
Marry this with her breadth of managerial experience and business acumen, and you have a winning combination!
What kind of Emotional Intelligence Assessments do you offer?
At Marshall Connects, we believe that Emotional Intelligence Assessments and Coaching are essential to individual development. For individuals, the EQ-i 2.0: Leadership Self-Assessment provides details on an individual's perception of themselves in their current role.
The EQ-i 2.0: Workplace Self-Assessment offers valuable insight on the impact that emotional intelligence has in a workplace. In particular, it provides concrete suggestions for establishing and maintaining positive relationships with colleagues, supervisors, and clients The Assessment provides individuals with a baseline for a wide variety of development and coaching activities designed to enhance their effectiveness. .
Is there a minimum number of participants required for your programs?
Good question. The answer varies depends on your company's goals. Since our expert programs range from individual coaching to organizational consulting, it's recommended that you reach out to us so we can assess how to best tailor our services to meet your needs.
Do you customize your workshops for organizations?
Yes! Marshall Connects workshops can definitely be customized to meet the specific needs of your team.
There are core elements that we include in each of our workshops:
Pre-workshop consultation meeting
Relationship building, problem solving, and brainstorming
Interactive learning and engagement
Customized handouts and creative activities
Access to a selection of Marshall Connects podcasts, articles, and developmental activities
Opportunities to develop and evaluate case studies specific to your business
Post-workshop debriefing meeting
How do we start the process of finding out if Emotional Intelligence programs are right for us?
Contact us today by using the form on this page. We'll then book a 30-minute call to discuss your needs and how Marshall Connects develops employees' Emotional Intelligence to enhance their effectiveness and overall productivity.
If at the end of the consultation call, we both agree that our services are a 'fit' for your organization, we'll prepare a customized proposal outlining our recommendations and training solutions.>
Still have questions? Please send us an email with the form on this page.
Get in Touch With Marshall Connects